Whatsapp is a leading text messaging and communication service that is available on all major mobile operating systems. Due to this, it is available on Android Kitkat version 4.4. With this being said though, it is not going to work on all devices that use the operating system.
Sponsored links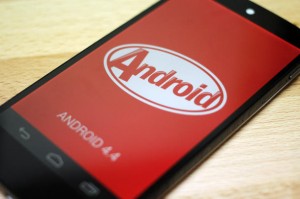 This is because it is designed to only work on hardware which has a mobile phone module/SIM connecting to a network/phone provider. So, should someone want to use WhatsApp on a tablet device without mobile network SIM / 3G, the only way this is going to work is follow a specific process to configure the application to that particular device (each tablet is going to use a slightly different method). So for tablet users, it is important to follow the specific installation process for that particular device as also explained in this page (for Galaxy Tab tablets) or in this page, for others brands.
Sponsored links

Here you will find a step-by-step guide to install Whatsapp on a mobile phone or a tablet (with mobile network/SIM module) powered by Android Kitkat 4.4 OS, this is the method for installing and using the application.
1) First, download Whatsapp from this page on the Google Play Store. Or, if you need it in a different language, then just open the Google Play store and then type in "WhatsApp" into the search field (Google will automatically detect your browser language). From there, it is possible to select the correct version for your OS (i.e. Android) and then, after clicking "download", the application will be automatically installed onto your Android device.
With WhatsApp installed, you will need to click on the new Whatsapp icon on your device and then follow the typical setup prompts. This requires you to type in the phone number of your device into the service and even configure your Facebook account, if you decide to go that way (you do not need to sync up your Facebook account, but you do need to add your phone number).
Once your phone number is confirmed, WhatsApp is going to show you all the current contacts you have in your "contacts" list, that have already the application installed on their device. If there is someone you want to communicate with through WhatsApp and they do not have it, you can scroll through your list of contacts and select the person you want to be in touch with. WhatsApp is then going to message them on your behalf using traditional text messaging. Of course, you are able to message them yourself as well and give him/her the instructions to install Whatsapp, if you want them to.
After everything is setup, you can now select your contacts and directly message them through Whatsapp, just as you would do with your regular text messaging and imaging services. You just don't need to worry about where in the world they are and how much it costs because… it's free!
See also:
Sponsored links