Even though it is an American app created and owned by a U.S.-based company, WhatsApp has had its biggest success in India. There are currently over 70 million WhatsApp users in that nation, according to the Times of India.
The app has become far more than just a messaging solution in India; in fact, it has become a part of everyday life. People on the subcontinent are using it for virtually everything from ordering food to ending an unwanted marriage. Unlike Americans, who think of WhatsApp as just a messaging option, Indians are using it for virtually everything.
Divorce by WhatsApp
Some Muslim men are actually using WhatsApp to divorce their wives, The International Business Times reported . The unfaithful husbands were taking advantage of a loophole in Islamic law that allows a verbal divorce based on the word Talaq, which means "I divorce you" in Arabic. The men tried sending their wives a Talaq over WhatsApp rather than facing them directly.
The use of WhatsApp for divorce has created a controversy because most Islamic lawyers and scholars think the WhatsApp Talaqs are not valid. Unfortunately, the practice seems to be growing and has even led to public protests.
Suicide Prevention by WhatsApp
A more positive use of WhatsApp is being undertaken by farmers in a very poor region called Maharashtra. Around a hundred farmers formed a group called Baliraja to share information about agriculture and organize themselves for political action over WhatsApp, The Better India reported .
The farmers are trying to learn and share agricultural practices and improve their business. They are also trying to create a more supportive community because the region has a very high suicide rate.
Some of the farmers are so desperate that they choose to kill themselves rather than to go into debt or face low prices for crops. Some of the farmers are also trying to organize a cooperative and a warehouse in an attempt to get around unscrupulous middlemen.
Future plans include setting up an insurance plan for farmers, organizing a better marketing system to raise crop prices, and lobbying the local government for better roads and schools. The idea is to use WhatsApp to organize farmers into a political force and hopefully prevent the desperate economic conditions that are driving some of the farmers to kill themselves.
Dates and Dinner from WhatsApp
If you live in Mumbai, the city formerly known as Bombay, you can arrange dinner, a ride to the airport, or even a date via WhatsApp. A group of students from a local technical college have organized a WhatsApp-based concierge or personal assistant service that is available 24 hours a day, seven days a week, DNAIndia reported .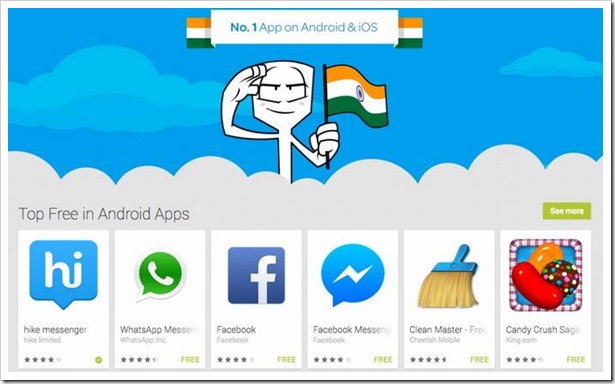 Sponsored links

The service, called Tathastu, means amen or so be it. Customers use the service to contact a concierge or dog robber, a personal assistant that will do anything for them. For example, the assistant might go out and find you a pizza at 3 a.m. in the morning or pick up your prescription from the local pharmacy.
Other services arranged have been a helicopter ride, organizing a party, assembling a desktop computer, arranging a dinner date on a cruise, creating face masks, and processing a passport. The idea is to provide everyday people with the kind of personal assistants currently available to high-ranking military officers or wealthy celebrities.
If you want to live like Kim Kardashian but you lack the money, this could be your chance. At least you could have a personal assistant to run out and get a cup of coffee for you at 4 a.m. Unfortunately, you will have to pay a very large tip for the service, which is obviously not cheap.
Internet Expansion via WhatsApp
WhatsApp and its parent company Facebook are the driving force behind a massive internet expansion in India, Vikas Jain, the co-founder of Micromax Informatics Ltd, a major smartphone maker in India, told The Wall Street Journal.
Jain described WhatsApp as the two biggest drivers of Internet use in China at a conference in Laguna Beach, California. Jain's company builds smartphones that are specifically designed to be used with solutions such as WhatsApp. He retails the phones through brick-and-mortar stores that reach average people where they live.
Unlike major companies such as Apple and Samsung, Jain has no plans to create his own operating system or apps, because WhatsApp is the driving force in the market. Instead, he simply provides Android devices that are designed to make it easy for average people to utilize WhatsApp.
WhatsApp as a Political Issue
WhatsApp is so popular in India that it is now a major political issue in the country. When the nation's security agencies proposed changes to the law that would ban WhatsApp's encryption technology, a political firestorm ensued.
Social media users became angry at proposals that would have required them to store all of their online communication for 90 days, CNN reported . The users flooded India's parliament with complaints, and telecommunications minister Ravi Shankar Prashad listened; he quickly withdrew the plan.
Many of the users criticized the measure as undemocratic and contrary to India's political traditions of personal freedom. Others were simply unhappy at the government's plans to spy on them.
It is hard to imagine Americans getting up in arms over a social messaging service, but Indians did because for many of them, WhatsApp is now their principal means of communication. It is how they stay in touch with their friends, family, and business associates. Not surprisingly, they do not like the idea of the government monitoring those communications.
India Is the Future of WhatsApp
It looks as if India could be WhatsApp's most important market, and India could be the future of the app. The way people in that nation utilize this simple messaging solution could shape the future of Internet telecommunications.
If you want to see the future of WhatsApp and messaging, India is the place to look. The many innovative uses being found for WhatsApp on the subcontinent will be copied all over the world, making India the future of WhatsApp and the place where this messaging solution could be transformed into a powerful communications platform.
Sponsored links